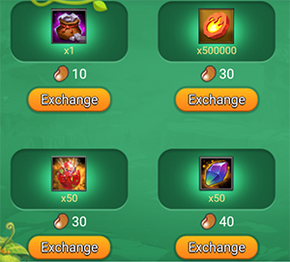 The game rewards players for their performance in a countless number of different Game Modes, and also Events, Lucky Spin, The Cat's Meow, Shop, Mystic Shop, Guild Quests, Quests, A Guild United, and more. Many of these rewards include a choice of different quantities of resources, and the 'prices' are almost never the same. For instance every Wednesday through Friday they run a Spend Event called Secret Vault where you can trade 8,000 Points for 9,000 Rings, and every Saturday and Sunday there is another Spend Event called Lords Gone Wild which offers 3,500 rings for 5k Points which is a much worse price. On each individual Resource page we break down the rewards from all known sources to find the best prices, however as stated their are just so many different reward sources and it can be annoying to have to go to each individual resource page to make a comparison. Also there are many 'resources' which aren't typically considered resources, but are none the less offered as a reward and we want to know how fair the offer is. So on this page we will look at it from another perspective, what is a good base price for each resource.
This is completely based on my opinion of what the typical prices are vs how badly each resource is needed. If you want a resource bad enough feel free to spend more, but it still helps to check other offers to make sure your not missing an incredible deal. I know this list is missing some rewards, some rewards are new/rare meaning I have to work out an understanding on each resources relative importance/availability before I can make a judgement. Also chances are if you are to the point where you need these newest resources the value of older resources has likely fallen off for you. Below are my price points, any trade not included on this list can be worked out by comparing two different lines. For instance 110 Souls per ring and 2.3 Rings per Mutagen (which is .43 Mutagen per Ring) and works out to 253 Souls per Mutagen
1.5 Rings per Jewel Reward (Spend and Reward are different for Jewels as you are often rewarded for spending Jewels)
2.3 Rings per Mutagen
110 Souls per Ring
150 Rings per Coral EXP Egg or 50 Experience per Ring
.5 to 8 Rings per Hero Shard depending on the Hero
180 to 500 Rings per Evolution Essence depending on the Hero
90 Rings per Enchant Crystal
2 Rings per Ancient Spirit Shard
2 Energy per Ring
Community content is available under
CC-BY-SA
unless otherwise noted.